Half Day – Maori Rock Carvings Tour (Mine Bay)
GUEST FAVOURITE
TIME: 4 hours (3 hours on water with rest breaks and story telling)
MOTORIZED KAYAKS (AVAILABLE)
DELICIOUS MUFFINS & HOT DRINKS
Beginning in the sheltered waters of Acacia Bay, come out with us and explore the secluded Rock Carvings at Mine Bay. Paddle below native bush, past steep cliffs and mini inlets that kayaks can only harbor into at (Whakamoenga Point) before the striking carvings (14 meter-high) come into view. Your experienced guide will captivate you with fascinating stories and legends behind creation of the carving's and their cultural significance to the lake and surrounding areas while you float beneath them inches away in orr.
On our return if the breeze comes up, we can raft our kayaks together and sail back – bliss!
Find out more
Full Day – Maori Rock Carvings Tour (Mine Bay)
TIME: 6 hours (4-5 hours on water with rest breaks & story telling)
MOTORIZED KAYAKS (AVAILABLE)
LUNCH & REFRESHMENTS
From our base in Acacia Bay, we will drive for 20 minutes to Whakaipo. Whakaipo Bay is one of the last untouched public and farmed reserves left on the shores of Lake Taupo. This place is so rustic and raw, you will be speechless.
Once we have unloaded the kayaks and equipment. Your guide will equip and brief you before setting off on our kayaking adventure. Firstly, to Masons Rock – an impressive volcanic fan of rock emerging from the lake.
Then onto the historic Maori Rock Carvings at Mine Bay. Where you will be captivated by these striking carvings (towering 14 meters high) as your experienced guide explains the carving's history & cultural significance while you float beneath them inches away in orr. The smaller surrounding carvings become alive as you get visually closer to them.
Find out more
Evening on the Lake
TIME: 2 hours (1-1.5 hours on water with rest breaks & story telling)
MOTORIZED KAYAKS (AVAILABLE)
DELICIOUS MUFFIN & HOT DRINKS
Enjoy Lake Taupo at one of its most magical times, with a relaxing evening paddle.
Our guides will take you on a relaxing and scenic paddle towards the Taupo CBD. Where you can take in the stunning backdrop of the local maunga (mountains), as the sunset glows over the precious Lake Taupo waters on your return to base.
Find out more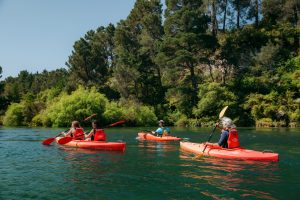 Waikato River Float
FAMILY FAVOURITE
TIME:  2 Hours
STOP FOR A SOAK AT NATURAL HOT SPRINGS
SNACK REFRESHMENT
Gently paddle through the un spoilt beauty of the Waikato River, through the pumice gorge with crystal clear slow moving water. Be amazed by the stunning cliff faces and lush native forest. We begin our journey just minutes from Taupo Town Centre and finishes at Reids farm, which is located 900m from the Huka Falls.
Whilst paddling we will pass various islands and swimming spots and drift past the bungy platform (let's hope someone's jumping). Along the way we will stop at the natural hot springs where you can take the opportunity to soak in the beautiful mineral water. At the end of this trip we will stop for refreshments.