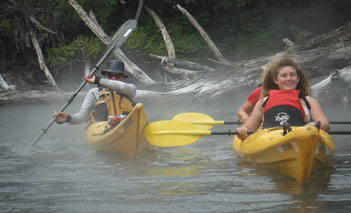 Geothermal Kayak & Walk Adventure (Orakei Korako)
Kayaking through geothermal features along the Waikato River, stoping for a warm shower and soak under a natural hot springs waterfall (optional) and wandering through the hidden valley of Orakei Korako Geothermal Park is without a doubt the best way to experience the spectacular scenery and the geothermal wonders of New Zealand.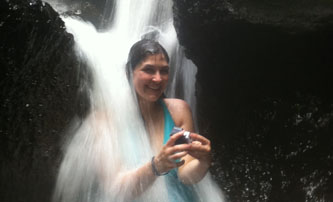 The Squeeze Trip
Our squeeze trip is without a doubt the best way to experience the spectacular scenery through the Waikato River and down to paradise valley.
We begin our adventure at the Tutukau Bridge, that leads us through the remarkable landscapes and natural beauty of the gorge and past the hidden valley (Orakei Korako, geothermal park) where you can see gushing geysers, silica terraces and boiling mud pools from sitting in your kayak.
Geothermal Walk and Waterfall (Squeeze Trip) Adventure
Starting from our base in Taupo, we will take you to the hidden valley of Orakei Korako Geothermal Park where you can explore a volcanic world of gushing geysers, hot springs, bubbling mud pools and some of the largest and most amazing silica terraces in the world.
Orakei Korako boasts the most active geysers of any geothermal park in New Zealand. Up to 23 active natural geysers play freely through the area, which is constantly changing. Marvel at the number of boiling hot springs and the vibrant colours all around you, or take a native bushwalk through this untouched geothermal paradise. The Lonely Planet Guide describes Orakei Korako as "…arguably the best thermal area left in New Zealand".
Waikato River Float
Gently paddle through the un spoilt beauty of the Waikato River, through the pumice gorge with crystal clear slow moving water. Be amazed by the stunning cliff faces and lush native forest. We begin our journey just minutes from Taupo Town Centre and finishes at Reids farm, which is located 900m from the Huka Falls.
Whilst paddling we will pass various islands and swimming spots and drift past the bungy platform (let's hope someone's jumping). Along the way we will stop at the natural hot springs where you can take the opportunity to soak in the beautiful mineral water. At the end of this trip we will stop for refreshments.