Mountain Biking
Kayaking with us on Great Lake Taupo is not the only way to enjoy the stunning scenery this region has to offer, so grab a bike and enjoy endless options of mountain bike tracks and rides. It's guaranteed there is something for everyone. We here at Taupo Kayak Adventures are geared up to take care of all your mountain bike needs….
Why not check out the Great Lake Trail, part of the New Zealand Cycle Trail network, that was developed through a partnership involving Bike Taupo, the Taupo District Council, the Department of Conservation and the New Zealand Cycle Trails. If you're not wishing to go as far afield there is the Rotary Ride leaving Taupo Township or the Lions walk which is family friendly even for the littlies.
If none of these take your fancy then there are other rides in the Central Plateau we can assist you with these include; Great Lake Trail, Rotary Ride and Timber Trails. Other trail options on request please enquire with us direct.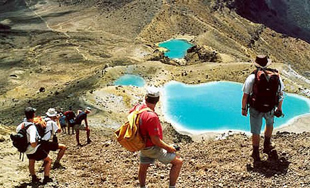 Walking Trails
If walking or hiking is your thing, you're in the right place. The Taupo district boasts some of the best walks and hiking trails in the world.
With a backdrop of mountains, lakes and forests you can expect some great short and long walks, as well as overnight or multi-day options.
Further out of town tracks and trails go through diverse areas of remarkable beauty; alpine terrain, lake and river trails through to areas of geothermal and significant historic importance.